The second step in creating a Sumac database perfectly tailored for your non-profit is to choose your Add-on Options. Sumac has more Add-on Options than any other non-profit software. Each piece not only integrates with the Basic CRM, but works together. Choose as many as you like to create a complete solution to manage your entire organization.
Sumac Volunteer Management streamlines the entire process of managing volunteers, from recruitment and analysis to scheduling, performing necessary tasks and thanking those who donate effort, making sure volunteers never feel unappreciated or ineffective.
If you have 50 or more volunteers, consider adding this Add-on Option.
Volunteer Management Highlights In Detail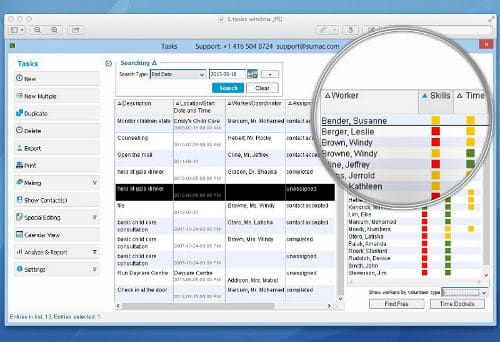 The heart of volunteer management is connecting volunteers with the right task at the right time. With Sumac, you can specify the qualifications required to perform each task, and at a glance find the most appropriate person to complete the task based on interest, skills and availability. You can then quickly schedule them, and keep everything organized with Sumac's built-in calendar.
Track Time Spent On Activities
Tracking the work spent by volunteers is valuable for two reasons: you can give them the recognition they deserve, and you can report the man-hours to funding bodies. Sumac supports time tracking and reporting to help you manage all these processes.