The second step in creating a Sumac database perfectly tailored for your non-profit is to choose your Add-on Options. Sumac has more Add-on Options than any other non-profit software. Each piece not only integrates with the Basic CRM, but works together. Choose as many as you like to create a complete solution to manage your entire organization.
Sumac Grant Management enables you to build a structured, step-by-step approach to winning grants and awards to support your mission. Build descriptions of various funding programs operated by each funder, streamline the application process, and report on outcomes.
If you apply for 10 or more grants per year, the Grant Management Add-on will help you stay organized and make your efforts more effective.
Grant Management Highlights In Details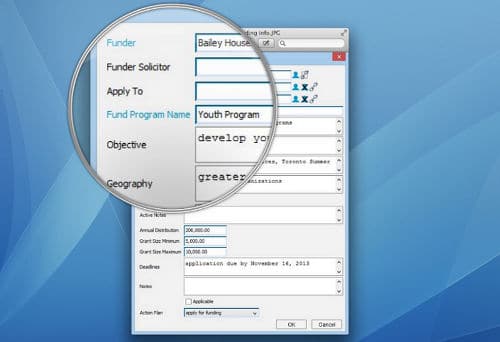 Record Vital Funding Information
With Sumac, you can build a profile of government agencies, corporate and private foundations that fund non-profit organizations. Include information about objectives, application schedule, grant sizes, and related contacts. You can also record vital information about each funding program including fiscal year, assets, annual distributions and relevant contacts for communication and applications.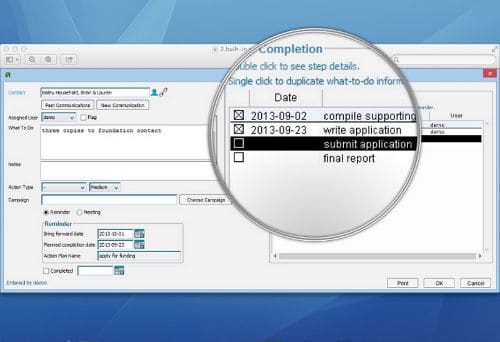 Streamline Grant Management
Get a comprehensive picture, from start to finish, of your entire process and eliminate redundant and potentially conflicting data issues, so you can stay on top of upcoming deadlines and events. Requires the Reminders Add-on.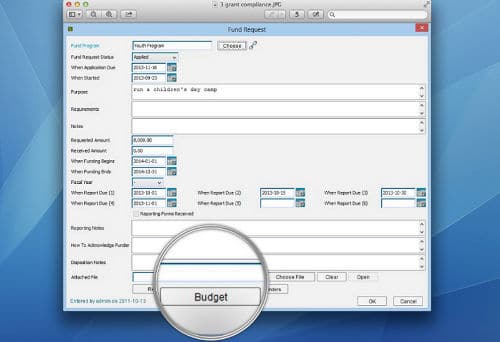 With Sumac, you can manage budgets in any level of details to conform to the requirements of your grantors, and follow the budget once the grant is awarded.
Grant-based budgets can also be consolidated with operational budgets. Restrict spend and control budgets by using funds checking and specifying restrictions/amendments (e.g. certain costs cannot be funded by the donor for a specific grant, or in a specific location).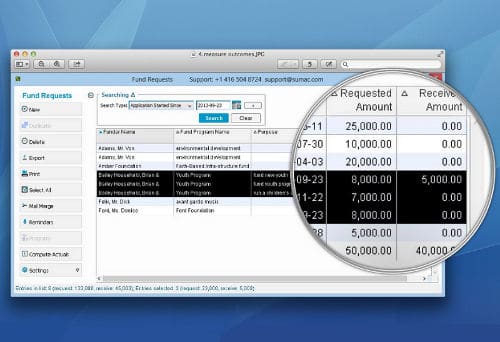 See multi-year views of the grants for seamless year-over-year views, or within any time period you define. Review your history of success with different programs, comparing amount requested with amount received to identify key success factors.