It's easy for people to ignore what they can't see: starving children half-way across the world, impoverished neighbourhoods, melting ice caps, suffering animals, depressed elderly and the mentally ill. Want to write a successful fundraising letter? Make them see!
According to Alan Sharpe, direct mail fundraising specialist and author of Breakthrough Fundraising Letters, "successful fundraising letters are exciting to read. They take you to crack houses, battlefields, logging protests, prisons, floods and other places you will never set foot yourself." What's the best way to do this? Tell a story! Bring the reader into your world, help them see why you do what you do, feel the amazing feeling you get when you do it, and the impact it has.
Here are the opening lines of six great fundraising appeal letters that use stories to help inspire you:
Example 1
"On a beautiful late spring day, 25 years ago, two young men graduated from the same college." (This is the beginning of the legendary Wall Street Journal letter that sold millions of subscriptions over many years.)
Get Your Fundraising Letter Templates Here!
Get Your Free Fundraising Letter Templates Here!
Example 2
"She stood on the curb looking scared and lonely in a skimpy halter top and bright red lipstick. It was two in the morning. A chilly breeze whipped up in the street and seemed to make her shiver. She was a child . . . just a child. We pulled our Covenant House van up to the curb and rolled down the window . . . ." (Covenant House)
Example 3
"Jeffrey is going to see his Dad today—and he's terrified. Jeffrey is seven and hasn't seen his Dad in three years. His parents were divorced four years ago in a bitter fight." (Humane Services Agency.)
Example 4
"We were frozen with shock, amazement, and fear all at the same time…
It had been a long and hard journey through Sudan, and at the end of it we were met by the frail, gaunt and starving bodies of children, teenagers, and adults all rushing towards us. Protruding rib cages and depressed stomachs. Legs as frail and thin as match sticks. It was the most shocking sight we had ever seen.
But with this sight came their smiles, their laughter, their cries of joy, and their warm embraces. Tears were shed on all our shoulders as we were hugged and thanked by many different people.
And suddenly, we all realized how much what we were doing meant to all these people!" (Feed The Children)
Example 5
"It was a Saturday morning and we looked around to see the breakfast club full of happy, smiling children. Each one of them talking and laughing, completely oblivious to the fact that they were disadvantaged; they did not see themselves that way at all. Since you cannot see their dear faces, I am writing to tell you how wonderful it is to see them smile…" (Anonymous)
Example 6
"She came to our front door Tuesday morning, dressed in dirty rags, holding a little aluminum paint can in her arms. From the second she stepped inside our shelter, she mystified us. Whatever she did, wherever she went, the paint can never left her hands." (This is from Martin Conroy's Covenant House letter, considered one of the all-time great letters in direct mail.)
Remember, the next time you're trying to figure out what to write in your fundraising letter, try telling a story. Bring the reader into your world and help them see the importance of what you do.
Download Your Free Guide on Choosing CRM Software for Your Nonprofit!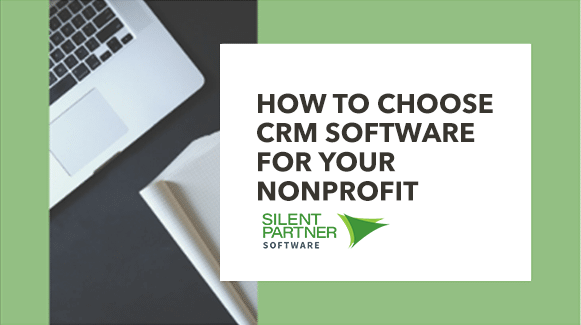 5