Direct mail appeals are a highly effective fundraising tool for non-profits of all sizes. However, if your strategy is simply to write a generic letter and send it to everyone in your database, you're probably leaving money on the table and even alienating donors.
If instead, you use your database to segment donors and send a customized appeal based on their giving history, communication preferences, and affiliation with your organization, you're going to get much better results! Each donor will get the type of letter that inspires him or her to make a gift, and not toss the letter in the recycling bin.
Segment constituents based on giving history
Before you begin to write your appeal letter, your first question should be "who is this letter going to? Current donors? Lapsed donors? Prospects who have never given? All of the above?"
It's critical to know who your donors are and what type of appeal letter they should receive. A good place to start is by looking at their giving history and coding constituents as renewing; upgrading; lapsed; or acquisition.
Renewing Donors are current donors who you will ask to renew their gift at the same level as previous years.
Upgrading Donors are current donors who you will ask to increase their giving from the previous year.
Lapsed Donors are donors who gave in the recent past 3-5 years and whom you hope to recapture.
Acquisition Donors are prospective donors you are soliciting for a first-time gift.
Once you have segmented your mailing list, each segment can easily receive a customized letter. The overall tone of the letter may be different, each might have a unique solicitation, and a custom P.S.
Customize Appeals by Giving Level, Lifetime Giving, and Affiliation
In addition to giving history, use your database to segment constituents based on how much they've given, their lifetime giving, and their history with your organization to help further customize your letters.
Giving Level. Consider donors who give above a certain threshold, whether that is $500, $1,000 or $5,000 each year. Information that interests a $100 donor is very different from what interests a $10,000 donor. In addition, some levels of donors might get a handwritten note in the margin of their letter, have their letter signed by a Board Director, or receive a phone call from the Executive Director in addition to receiving a letter.
Lifetime Giving. A donor who has given annually for ten or more years deserves recognition. A truly customized letter – with a short paragraph about the impact of their commitment to your mission – reiterates your appreciation.
Affiliation. Former board members, volunteers, and even program participants were all deeply invested in your organization at one point. If their giving has scaled back, use your appeal letter as a way to re-engage them. Segment these constituents separately from current or lapsed donors to create a powerful customized appeal.
Use quantitative data to cultivate donors
Looking at giving history and affiliation helps ensure donors receive communication that is based on their past support of your organization. Using quantitative data from your database can help you be proactive in effectively cultivating donors; identifying major gift prospects; and even recapturing lapsed donors. Looking at an RFM (recency, frequency, and monetary) analysis or a prospecting score can help further refine your segmentation and help you go a step further when it comes to customizing your appeal letters.
Recency, frequency, monetary. An RFM (recency, frequency, monetary) analysis looks at how recently donors gave, how often they give, and the amount of their giving, and assigns a score. A high RFM score indicates a high level of engagement, while a lower score often indicates that additional cultivation may be needed. RFM analysis may help identify which donors would most benefit from additional cultivation, and segmenting by RFM score can help you segment your mailing list.
Prospecting. Prospecting allows you to analyze your current donor base and calculate a percentile ranking and giving score for each constituent. It scores donors on their financial capacity and philanthropic interests, and can help you identify possible major donors or even board director candidates. Running a prospect screening and scoring each donor may uncover some surprising results: perhaps a donor who has given $100 annually has the capacity to make a $10,000 gift!
Don't forget to customize your "thank you"
Segmenting your database allows you to create letters targeted to each donor based on their background with your organization, their giving history, and your strategy for maintaining them as a donor. Don't let your personalized communication stop once you've sent your direct mail appeal. Once gifts are received, segment your donor list to come up with a customized stewardship plan!
Download Your Free Guide on Choosing CRM Software for Your Nonprofit!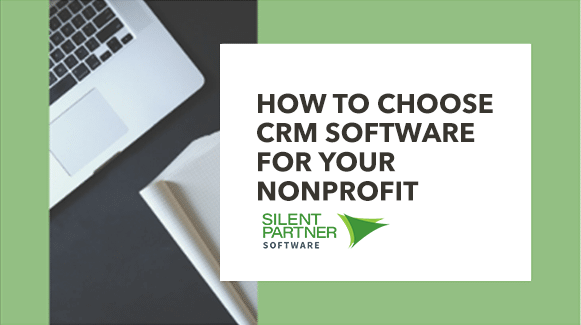 1