Anyone who tells you a website doesn't matter anymore is steering you wrong. In reality, a website can be a very powerful tool when it comes to helping push your message forward. Since many non-profits spend a considerable amount of time maintaining their websites, it makes sense that it increases support, but that isn't always the case. If your website does not inform, entertain and engage then you likely won't get the reaction you're looking for.
While it is true that every non-profit is different so every website should be different, there are some characteristics that all good websites share. Lets explore what makes an effective non-profit website through some of the examples below.
Use Dramatic Pictures
More and more web designers and marketing experts are suggesting to their clients that they opt for bold photos and bold text. This approach captures the attention and imagination of donors. Notice how Amnesty International uses a short bold statement and a full-screen photo to get their point across. The human rights organization often posts a tagline along with their bold statement that relates to a current news item. For Amnesty, photos are key to telling a story. Another example of bold pictures and bold text use is the non-profit website run by Acumen. This organization focuses on changing the way the world addresses poverty, and will often utilize close up images of faces to depict emotion.
Use Video to Bring a Story to Life
Using animation or video can be very effective on a website. One of the best examples of this is the Memphis Zoo. The Zoo uses video to bring the public right inside their park, as if you are right there with the animals.
Keep it Simple
Making a website simple and user friendly is one of the best ways to solidify public response. Simple means fewer options on primary navigation, less written copy, well written headlines, well crafted taglines, limiting use of too many different colors, and good placement of different site sections. An example that fits this description is Oregon's Kitchen Table.
Notice how the site uses primarily green and white colors, simple headings, and allows you to quickly scroll down the screen to gather a lot of the information you might need. Across the top, the navigation header includes easy to read and click sections you can choose from. The rest of the site uses a straightforward block design to explain itself, much like the column style of a newspaper.
When newspapers were first printed, editors discovered that it was much easier for people to read eight words per line as opposed to reading across the whole width of a screen. Since the practice has been around so long, readers have become accustomed to the format and have often said that it allows them to get through information quickly and move on to something else. This is very effective for websites since studies show that many website visitors don't actually read written copy, but instead scan it.
More Tips to Consider
Tell visitors how to engage – strategically place calls-to-action on your website since highlighting opportunities will increase overall support. This could mean signing up for a newsletter or encouraging them to share a blog post on social media and steering them to becoming a volunteer.
Make forms simple – you need to make it easy to take action so when someone clicks on a call-to-action do not make it confusing or overwhelming for them. For example, long forms or asking for personal information will turn people off and away.
Use Analytics – if you have a data-focused approach to your site, it can help you track who is watching you and how long they are sticking around. It can also indicate what actions people are taking on your website so you can make adjustments if necessary.
Download Your Free Guide on Choosing CRM Software for Your Nonprofit!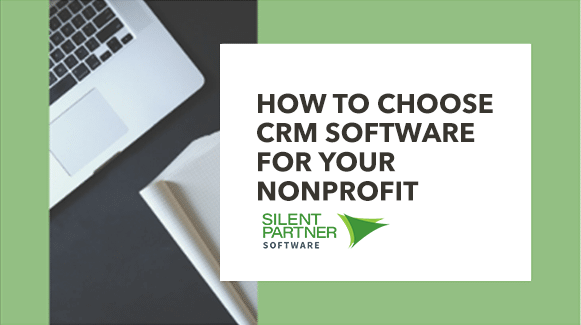 2