Has this ever happened to you?
A staff member comes in and tells you that there's a terrific funding opportunity he's just learned of. There's just one problem: the proposal is due tomorrow, it requires extensive research and a full three-year budget, and it also requires financial paperwork which your accountant hasn't completed yet.
Or…
A major donor calls you and asks why he has just received two completely separate requests for funding from two different people in your organization. Which of these requests do you want him to consider? He then goes on to ask you what's going on in your organization, and why the right hand doesn't seem to know what the left hand is doing.
Or…
Your boss asks you to write a grant to XYZ Foundation, asking for funds for a program for at-risk teens. But your organization doesn't serve at-risk teens – it serves preschoolers from middle class backgrounds. When you ask why your organization would want such a grant, your boss explains "XYZ Foundation doesn't give money for preschool projects, they give money for at-risk teens." When you ask whether your organization is going to be starting a teen program, your boss responds "That depends upon whether or not we get the grant!"
What Is a Strategy?
If you've experienced this type of unplanned, haphazard fundraising at your organization, you already know why so many experts recommend that non-profits develop a fundraising strategy.
A strategy is, in essence, a blueprint for the fundraising process. It starts with your organization's mission and general strategic plan, and creates a set of specific fundraising goals. Based on those goals, it is relatively easy to construct a fundraising plan to meet those goals. Typically, fundraising strategies include specific plans for raising both restricted (program or project specific) and unrestricted (general use) funds.
Fundraising strategies aren't written in stone for two related reasons. First, as time passes, different funding priorities will emerge. Second, the fundraising landscape will change. Ideally, you'll build new relationships with funders, but at the same time tried and true supporters may change leadership or priorities.
The Pitfalls of Strategy-Free Fundraising
As you saw in the scenarios above, fundraising with no strategy in place can lead to some really significant problems – not just for the fundraising function but also for your non-profit as a whole. That's because working with no particular oversight or direction is bound to lead to omissions, duplications, poorly planned actions and lost opportunities. For example:
Without a clear set of priorities, it is almost impossible to research, prioritize, and plan for appropriate funding "asks." With an ocean of funding possibilities out there, you need a rudder to guide your ship to the right opportunities at the right time.
Without a clearly defined process for proposing and undertaking fundraising projects, it is very difficult for staff to know who is asking for what kind of funding from whom. As a result, staff members can wind up stepping on one another's toes. Imagine a non-profit in which three different departments have all written grant proposals to the same funding agency – all for completely different projects. As the funder, how would you respond?
Without a budgetary goal, it is easy to leap on every funding possibility with equal energy, whether or not the opportunity relates to the organizational goal. As a result, your organization may end up with funding for a project that is tangential to its mission or, worse, having to refund grant money for an impossible project.
The Advantages of Fundraising with a Strategy in Place
A fundraising strategy is more than just a list of grants for which you intend to apply. It must build on an organizational strategy, and it must include your organizational priorities, goals, and budgetary needs. In the process of developing a fundraising strategy, therefore, your organization will need to do a self-assessment, set a course, prioritize goals, and create both a mission and short term objectives.
This process, otherwise known as strategic planning, is helpful for the entire institution. The outcome, ideally, includes a core mission and objectives as well as related missions and objectives for each department. With this information in hand, it is possible to:
Prioritize funding needs
Identify staffing roles and responsibilities
Develop plans for restricted and unrestricted fundraising activities
Select appropriate grant funding opportunities for specific needs
Plan grant writing well in advance
Develop and implement an appropriate record keeping and reporting system
Build and maintain relationships with funders
Other advantages to having a written strategic plan relate to your ability as a fundraiser to manage the fundraising process. Should you go for that granting opportunity? Is this project more important than that one? Your strategy should provide you with helpful guidance. For example, a written fundraising strategy:
Provides you with the tools to review and make smart decisions about unexpected funding opportunities. Does the funding opportunity fit your organizational mission and priorities? If not, tempting though it may be to apply for free cash, you will be able to say "no," and move on to more mission-central activities.
Provides you with an ironclad reason for prioritizing one staff member's projects over another's. Why does Joe get a grant application written while Bill doesn't? Because the fundraising strategy states that Joe's project will get funding priority this year, while Bill's will get priority next year.
Makes grant writing much easier to plan. Once you have a strategy, you can research funding sources, make note of grant proposal deadlines, and start the grant writing process far in advance. This will mean the end of crisis-driven grant writing and the mad rush for documentation which are so often a part of the fundraising process.
Of course, creating a fundraising strategy is not a one-day, one-person affair. In fact, even if you are a one-person non-profit, you'll need to involve your board in the strategic process. But the outcome – a mission, priorities, and a plan of action – are well worth the hard work. In the long run, you'll have a smoother operation, stronger relations with funders, and a more reliable stream of income.
Download Your Free Guide on Choosing CRM Software for Your Nonprofit!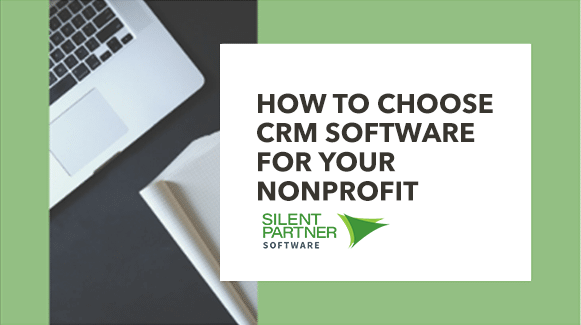 1,2