If your organization runs an annual appeal, you probably know you can rely on certain individuals or families to give every year. In fact, there may be some people who give to your organization every year whether or not you even get around to asking. Often, those reliable, regular donors send a small check – $100 or so – just as a way to say they care.
Of course, it's always nice to get a little something from a friend. And most likely you're good about sending a thank-you note. But when you're a non-profit, dependent upon donations for your very survival, regular donors are much more than friends. They're potential angels, whose ongoing, unflagging interest in your organization means they may have the interest and ability to give much more than a token gift.
Consider the source of a regular annual gift. Who would give to an organization every year, without really thinking about whether or not it's a good idea? Clearly the answer is an individual or family for whom your organization means something significant. Something beyond the everyday. For example:
Maybe your health center provided critically important treatment to an uninsured family member.
Maybe your shelter protected a loved one and her children when they were coping with domestic violence.
Perhaps your arts organization gave a child the much-needed boost they needed to succeed in their chosen field.
Whatever the reasons, your donor cares.
Now, it's time to show a little love to your donor, in the form of donor stewardship and cultivation. Over time, your interest in the donor – and the one-on-one conversations you'll initiate with your friend – may lead to a stronger, more significant relationship. When a non-profit builds a real relationship with its best donors, it's laying the ground for major gifts.
How do you steward and cultivate your relationship with your donor?
Start with the basics. If you "forgot" to say thank you, do so right away. If you forgot to add your donor to your mailing list, add them. If you run events, but neglect to invite your best donors, be sure they're on top of the invite list.
Next, consider building your relationship. To do that, you'll need to know more about them. If you know the donor personally, or know exactly why they're interested in you, you're one step ahead. If not, ask your staff, volunteers and board for information. Often, you'll get the answer – and it can be very revealing.
Once you know who your donor is, and why he or she is so interested in your organization, you can move forward to build your relationship. Depending upon your organization and the particular donor, you may:
Write a hand-written invitation to the next donor event on your thank-you note. Let your donor know you'd like to connect with him personally. When he comes, make it a point to shake his hand, get him a glass of wine, and chat.
Ask the volunteer, staffer or board member who knows the donor's story for advice on how to connect with her. Ask the person who knows the donor to join you.
Write a personal letter to the donor explaining that you appreciate his ongoing support, and that you understand he's especially interested in [fill in the blank]. Let him know that you're still doing [fill in the blank], and that you'd like to update him on what you're doing and how he can be involved. Set a date to get together, and wow him.
Find a way to connect with the donor outside of your organization. Are you both Rotary members? Do your kids play ball together? Can a board member invite both of you to a barbecue? When you see your donor, thank her in person and invite her to attend your next event.
As you get to know your donor, you'll build a profile of information that will help you decide whether this individual is a major gift prospect. Do they have the financial means to give $1,000? $10,000? More? If they do, why would they give it? Are they interested in seeing their name in lights? Do they want to make a bequest (leave you money in their will)? Or do they just care about your cause?
Understanding your donor and your own needs, you're now in the position to propose a specific gift suitable to the donor's interests. A $1,000 gift (especially if it's annual!) can pay for a program or class. A $5,000 gift can underwrite the purchase of a much-needed medical device or research tool. A $10,000 gift could pay for naming rights for a new room or collection.
No matter what your work or your mission, it's always in your best interest to get to know your supporters. Who knows? The lady who has sent you a $100 check every year could turn out to be your biggest booster – and your biggest donor.
Download Your Free Guide on Choosing CRM Software for Your Nonprofit!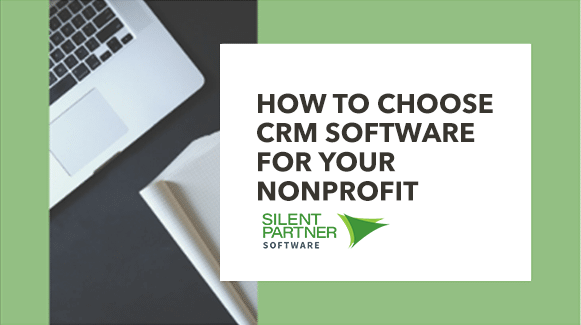 3,2