Simplify Donation Management with Sumac!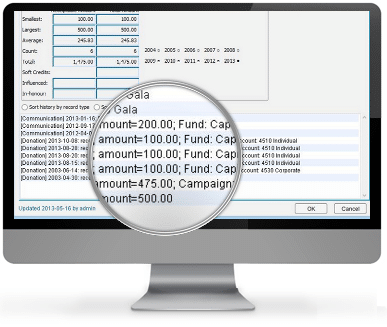 With Sumac, processing, tracking, and receipting donations is easy, so you can spend more time developing relationships with your current and potential donors.
Sumac integrates seamlessly with your website, so online donations are recorded and receipted automatically. Also, built-in reports help strategize for your next funding campaign and fostering loyal donor stewardship.
We upgraded to Sumac from eTapestry, and we are amazed at how fast and efficient it is…
Executive Director, Skyworks Charitable Foundation
Features of Sumac Donations
Record all donations, including bequests, gifts-in-kind, in memoriam, member donations, split donations, event and campaign related donations.

Provide soft credit for donations to contacts other than the donor.

Document payment details for each donation and specify alternative recognition scenarios if necessary.

Relate donations to events, campaigns, and funds, providing a more detailed analysis of giving patterns.

Export data from Sumac to your accounting software, eliminating repetitive entry.

Produce receipts on an ongoing basis or annually, in accordance with donor preferences.

<//li>

Prepare reports for financial reconciliation, for analysis (e.g. lapsed and returning donors, LYBUNT, SYBUNT), and to identify trend times (e.g. 2, 3 and 10 year comparisons).

Generate and assign receipt numbers automatically with the option to attach customized thank-you letters.

Integrate Sumac Membership, Sumac Sales and Sumac Ticketing Add-ons to automatically solicit and record donations in conjunction with other transactions.

Integrate donations with online payment processing to instantly process and authorize credit card payments.

Extend Sumac Donations to integrate with Sumac Pledges, automatically creating recurring gifts while relating donations to pledges.

Link Sumac Prospecting with donations and analyze donation histories and trends in order to find great candidates for increased giving.

Group donations into batches for operational reasons (e.g. all the donations from a particular week) or for financial reasons (all the donations in a particular bank deposit). Sumac automatically calculates the total of the donations which you can then compare to external information (like a bank deposit slip) to identify and resolve inconsistencies.

Accept donations online through your website. Donation and payment details are recorded in the Sumac database, and thank-you letters are generated and emailed immediately. More on online donations.
Get started today with no obligation!
877-399-4645