This time we have gone global to shown that kindness still exists around the world, and to bring you more stories that celebrate the good stuff that's happening every day during this crisis. Once again just click on to the highlighted area in color or underlined copy section and it will take you to more detailed stories covered here.
1. Christ The Redeemer Lights Up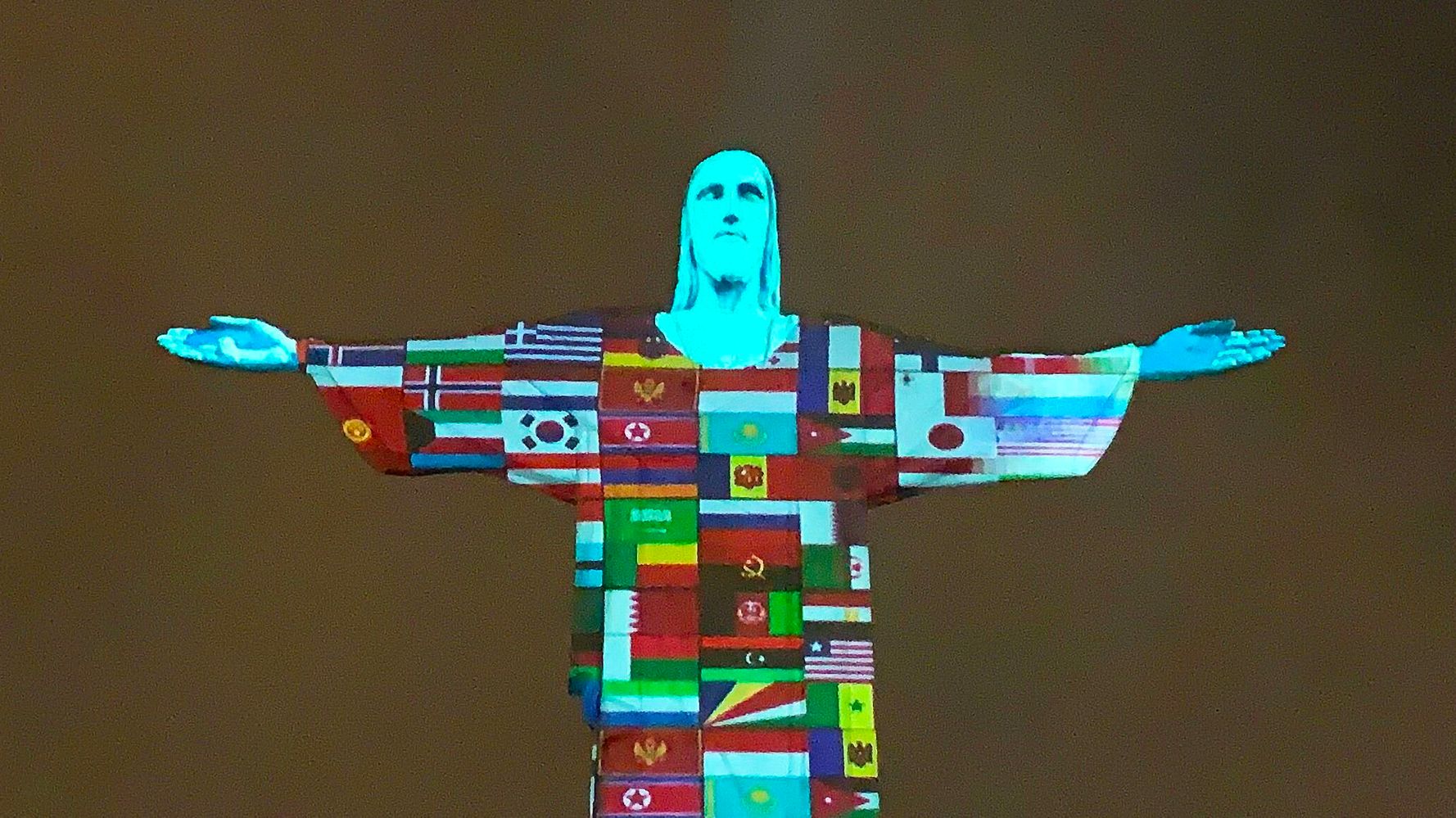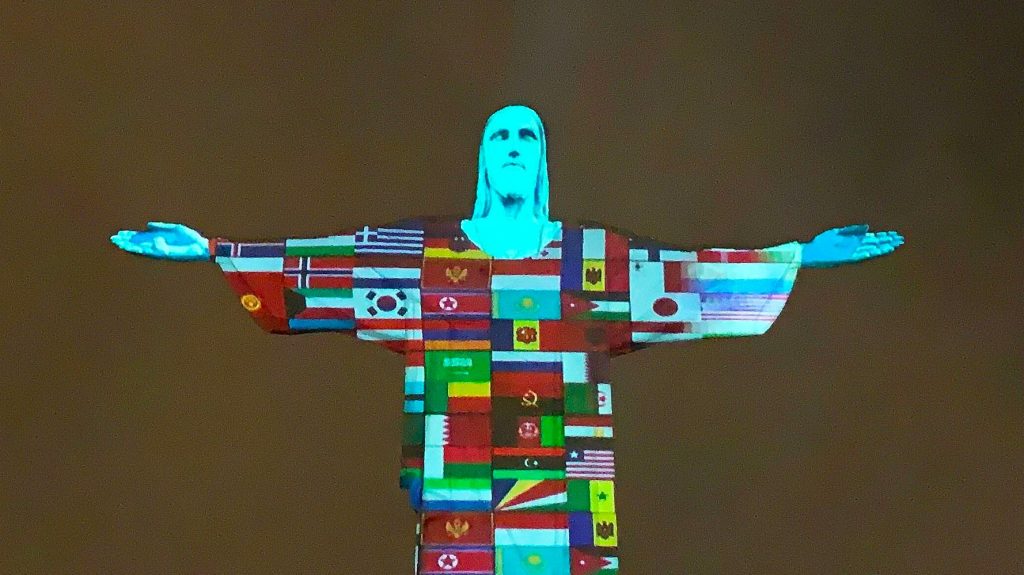 On Wednesday, the 18th March, the iconic Christ The Redeemer statue which looks out over Rio de Janeiro was illuminated with various flags of countries gripped by the Coronavirus pandemic.
The move coincided with the Archbishop of the city delivering a dedicated mass in honour of the Covid-19 victims from around the world.
2. Free Streaming Of The Opera
Many theaters have cancelled productions and shows in light of the virus, including in the home of Broadway New York City.
However, the city's Metropolitan Opera announced that rather than ceasing production entirely they will host nightly Opera streams from their archive free of charge.
So, if you fancy a break from watching the news or viewing movies on Netflix during self-isolation, and have never managed to catch the Opera before, now might be your chance. Just go to Vulture reports, for the complete line-up of free operas.
3. Nurses share powerful moment of prayer from hospital roof
The Photo above of nurses at Vanderbilt University Medical Center in Nashville, Tennessee, joining together in open arms and bowed heads for a moment of prayer in the wake of the coronavirus pandemic is tugging at heartstrings.
A group of nurses at the Vanderbilt University Medical Center in Nashville pray together on the hospital's helipad.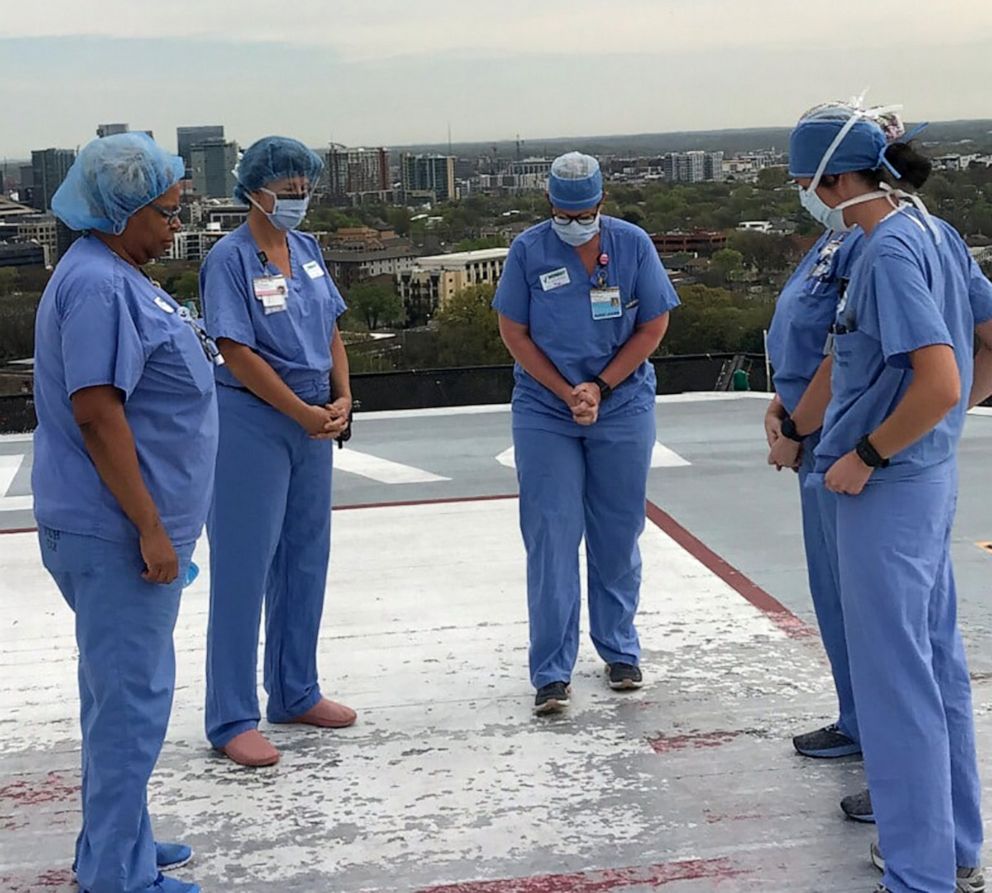 Sarah Kremer, Angela Gleaves, Beth Tiesler, Tanya Dixon and McKenzie Gibson came together for a prayer session on the hospital's roof — asking for strength, protection and wisdom for everyone taking care of patients around the globe.

"I felt compelled to ask my friends to join me in prayer due to the fear and anxiety we're all feeling every day at work," said Kremer, who explained she chose the roof for the gathering in an effort to "lay a cover of peace over the entire medical center."
The nurses had only 10 minutes to spare before rushing back to the battleground beneath them.
"We want everyone to be comforted in knowing God is always with us no matter what," Gleaves said. "Our motto right now is faith over fear."
4. Mystery mom leaves free lunches out every day 'for anyone who needs it'
In Severna Park, Maryland, a mystery resident has left bagged lunches outside a busy roundabout for "anyone who needs it" every day at 11:00 a.m.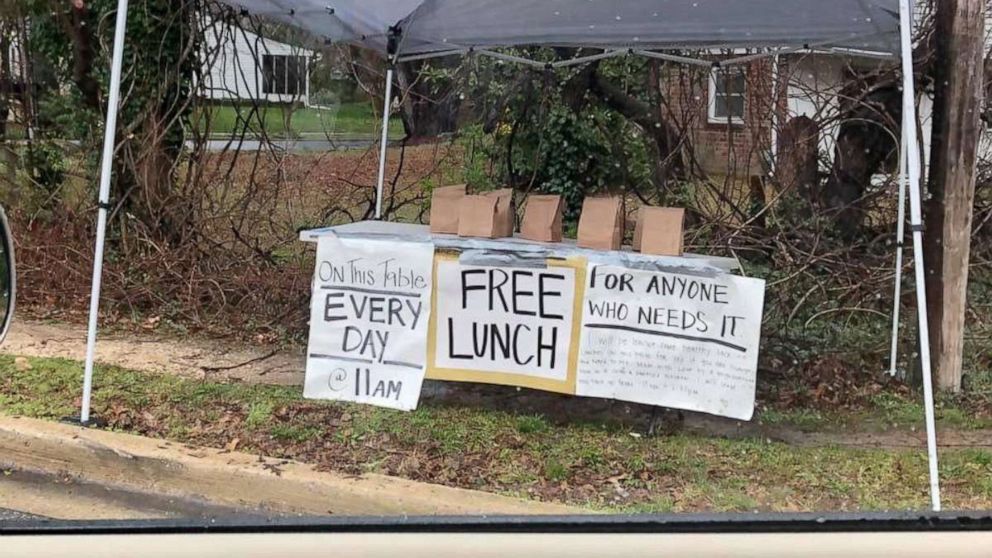 A sign left with the bagged meal reads: "For anyone who needs it: I will be leaving some healthy sack lunches on this table for you if you are hungry and need to eat. Made with love by a neighborhood mom in a clean and sanitized kitchen. I will leave this table up from 11:00 a.m. to 1:30 p.m."
Kimberly Gussow, a local parent, said she grabbed a bag for her 7-year-old son and found inside a ham sandwich, fruit snacks, an orange and an apple.
"This makes me embrace my community even more. I'm proud to live here," Gussow said. "It's great to show our kids that there is good in our world. It's not just about ourselves, it needs to be about others too."
5. Victoria Derbyshire Presents News With Important Hand Marking
Presenting BBC News on Monday morning, viewers noticed Victoria Derbyshire had a phone number written on her hand.
Inscribed was the National Domestic Abuse hotline in the UK – an attempt by the presenter to alert anyone trapped at home with a violent or controlling partner to the helpline for support.
Sharing a picture of her hand on Instagram ahead of appearing on the news, Derbyshire wrote that there has been an 150% increase on visitors to the hotline's website and 25% increase in calls to the hotline since lockdown. The presenter was overwhelmingly praised online for the move.
6. Confined to their homes, Italian neighbors sing together to boost morale
Even in the most desperate times, music can lift the spirits — as some Italian neighbors have proven by singing together in harmony from behind closed doors. 
Residents in Siena, a city in Tuscany, leaned out of their windows and broke into song on Thursday evening in a moment captured in a video posted on Twitter.
The best one is from Siena, Italy, where they sang a popular song about how proud they are of their hometown, which went viral.
Here is a link to the video of people in Italy SINGING together from their balconies.  
7. Families raise thousands for school janitors on cleaning sprees amid COVID-19 crisis
While schools are closed across the country, custodial staff are doing their part to help stop the spread of the novel coronavirus with deep cleanings lasting several days.
To show their gratitude, parents have been raising thousands to pay these janitors overtime.
Brooke Thomas, a mom of four from Williston, Vermont, said her kids' schools shut down after a staff member was potentially exposed to coronavirus.
"They're in a potentially contaminated area, making sure the school is safe for our kids," Thomas said.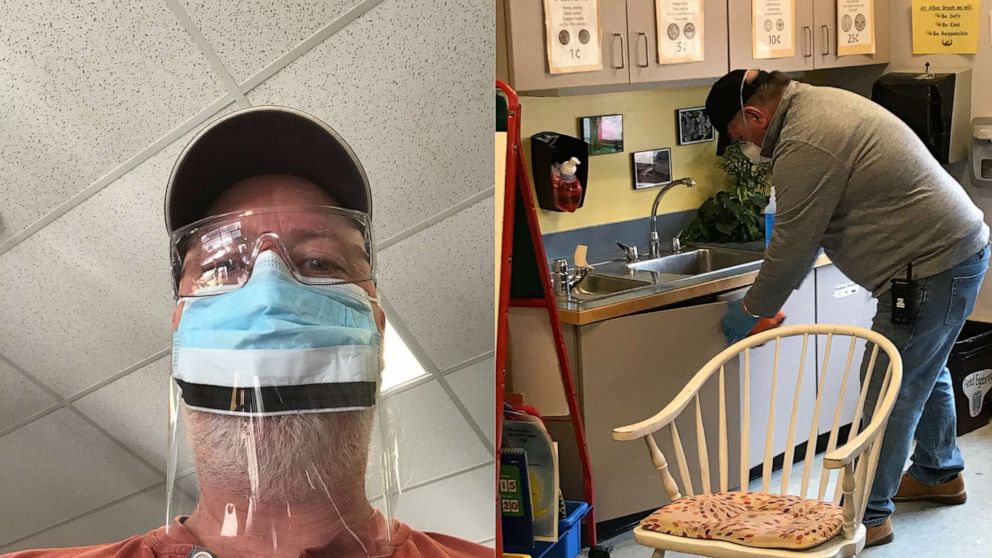 Lyall Smith (left), head of facilities and management and John Baggs (right), both custodians at Williston schools in Williston, Vermont, have been cleaning and sanitizing doorknobs, carpets, floors, lockers and cubbies amid the novel coronavirus outbreak.
For precautionary measures, janitors did a two-day, thorough cleaning of both Allen Brook School and Williston Central.
Thomas chimed in on her local Facebook group, commenting on the hard work these men and women show in the schools. She then launched a Facebook fundraiser hoping to raise $200.
After four days the amount reached $7,450, which was split among eight custodians.
Lyall Smith, head of facilities and management at Williston schools, told "GMA" his staff is extremely thankful.
"All my people were really thrilled that they took the time to thank us for what we're up to," Smith said, adding that he and his colleagues have been cleaning and sanitizing doorknobs, carpets, floors, lockers and cubbies.
8. Over 100,000 join DJ for virtual dance party on Instagram live
With so many Americans social distancing at home, DJ D-Nice, who has nearly 700,000 Instagram followers, hosted a virtual party as he spun music from his home Friday and Saturday nights.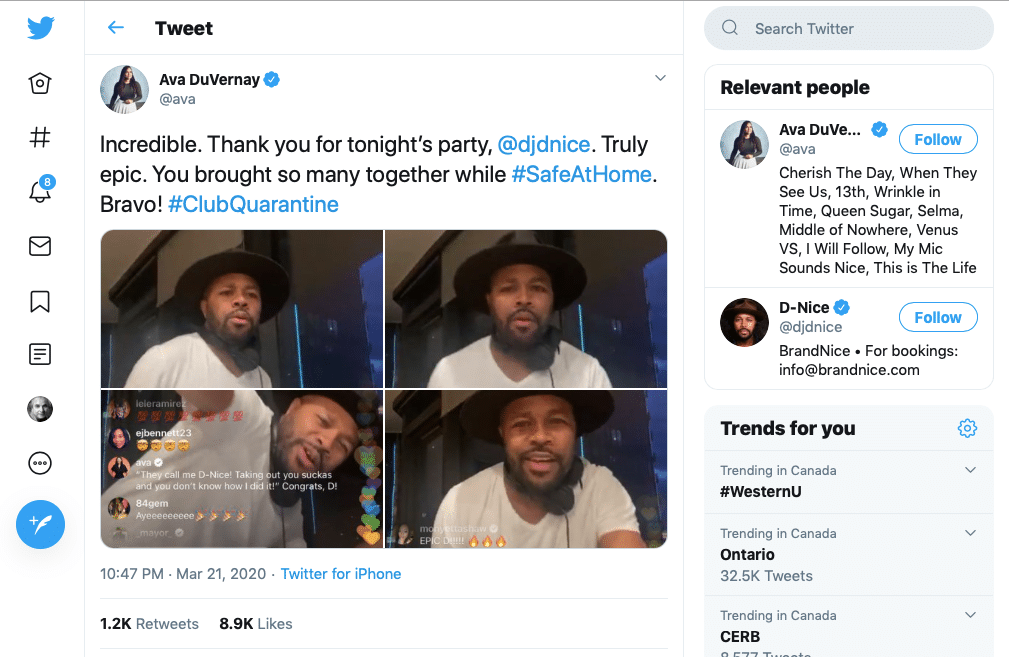 Dubbed "#ClubQuarantine," the virtual livestreams on Instagram live attracted more than 100,000 users who were all collectively listening to music and dancing in their homes.
Tons of celebrities tuned in too, including Oprah, Michelle Obama, Drake, America Ferrara, Janet Jackson, Justin Timberlake, Lenny Kravitz, Will Smith and Kim Kardashian.
Oprah tweeted, "Best party of 1 and 100k I ever been to! Thanks @djdnice #ClubQuarantine." 
While, filmmaker Ava Duvernay added: "Thank you for tonight's party, truly epic, you brought so many together while save at home." 
9. Erie County SPCA says all dogs adopted at West Seneca shelter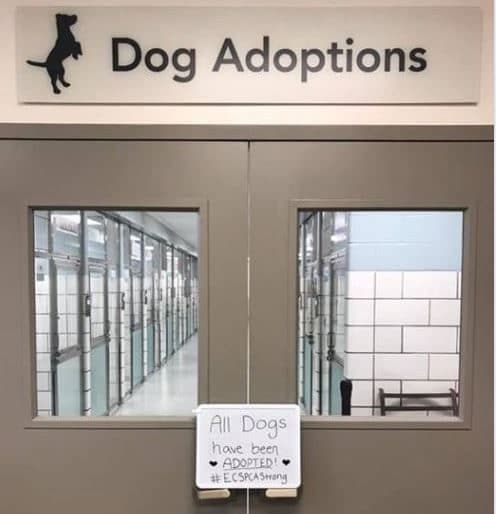 The City of Good Neighbors came through in a big way for dogs at the SPCA!
The Erie County SPCA announced on its Facebook page Monday that all the dogs at its West Seneca location have been adopted!
Gina Lattuca, the SPCA's Chief Communications Officer, says she thinks people legitimately saw the need during the coronavirus crisis.
"We were thrilled that the community backed us up like this, the SPCA will keep accepting animals by appointment if there is an emergency or if animals are sick or injured." Lattuca said.
10. 'Everything Will Be OK' signs spread cheer in Georgia town
With art galleries closed in Dunwoody, Georgia, due to the coronavirus, residents are supporting their local artists with a simple message: "Everything Will Be OK."
The message, which was originally coined in a 2009 mural by local artist Jason Kofke, has been spread through signs on lawns and windows, each sold for $20 to support local artists out of a job.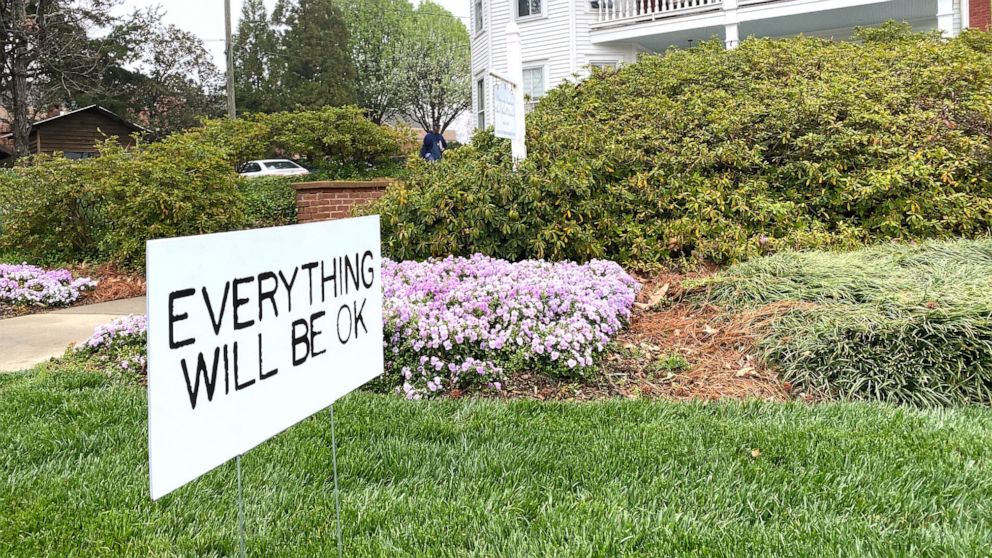 'Everything Will Be OK' signs pop up to spread cheer around a Georgia town.
Dunwoody resident Alan Mothner, who is also the CEO of the Spruill Center for the Arts, thought of the idea along with Heyward Wescott, who owns a local graphic design company.
"It's kind of known as the unofficial motto of the city of Dunwoody," said Mothner.
Since Sunday, they've received more than 600 orders for signs and have raised at least $14,500 for local artists in just 24 hours, Mothner said.
If you need more stories, there is a "Good News Movement" page on Instagram. Perhaps it's just what the "doctor ordered" at this time.
So, go ahead share these stories with others, because by sharing the good news, you too will be showing that you're not that myopic nonprofit that cares only about its own mission and goals. 
You will be showing that you and your staff are human beings who are in the nonprofit world because you care, and although you're focused on one part of doing good, you're still citizens of the world. 
We're all in this together. Let's make the most of it.
See Complete List of COVID-19 Resources for Nonprofit Here.