Thank-you emails can do more than show appreciation for a donation; they can educate, inspire, and ultimately help build a stronger connection to your organization, so donors keeps giving to your organization for years to come. Here are tips on writing a great donation thank-you email:
1. Personalize it
Earthjustice, does a great job at keeping a personal tone throughout their emails like the one below. They address the donor by their first name and use simple and meaningful wording to strengthen the relationship between the donor and them.
It's easy to personalize thank-you emails with a CRM that is connected to your online donation page.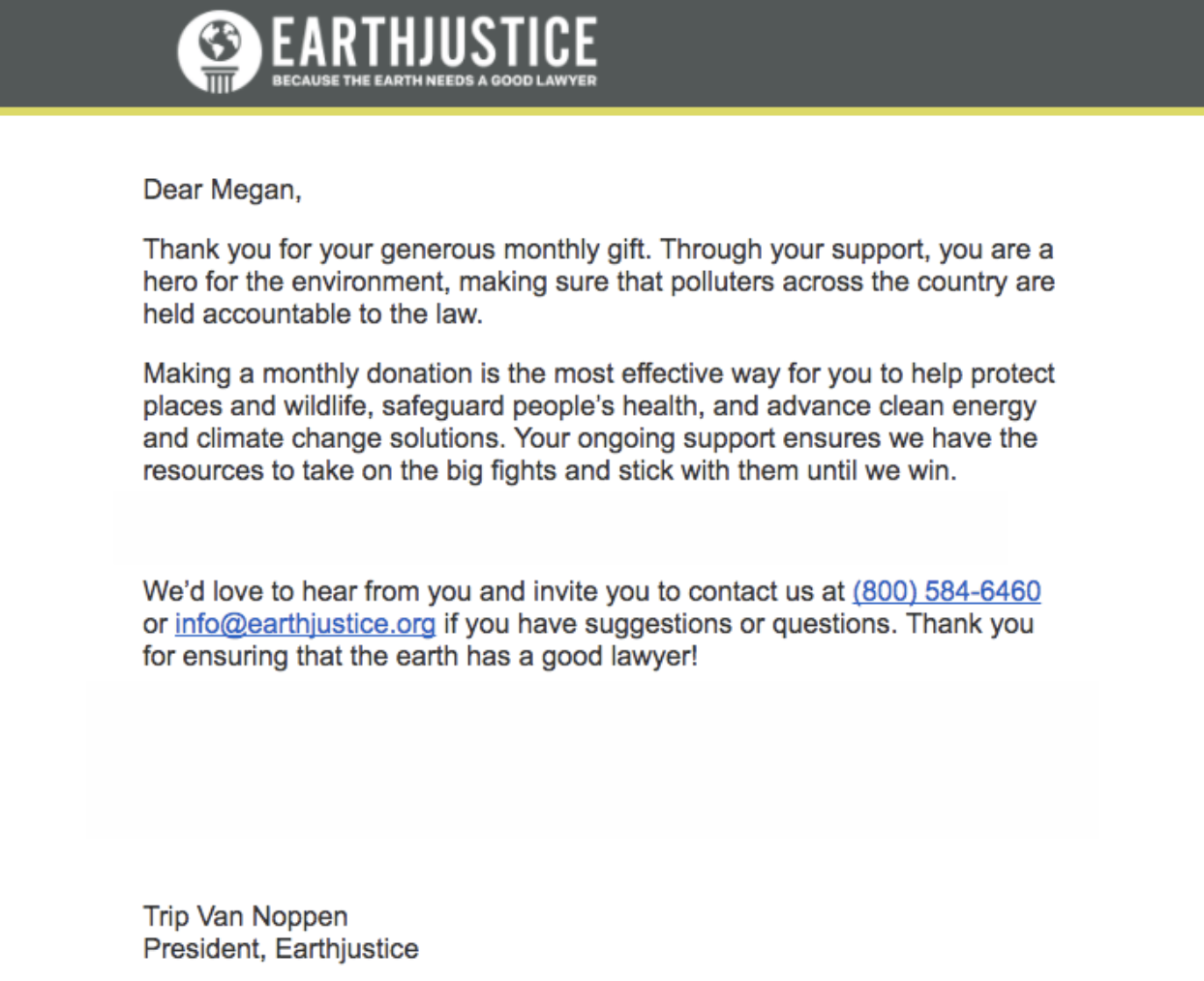 2. Link Donation to Your Accomplishments
Helping donors see and understand the impact of their donations is so important! Kids Now does a great job of using their thank-you email to show the direct impact of the donation by linking it to the accomplishments of the organization.
They also do a great job of inviting the donor to become even more involved by coming to an open house, which will strengthen that relationship even more. We'll talk about this more in the next tip!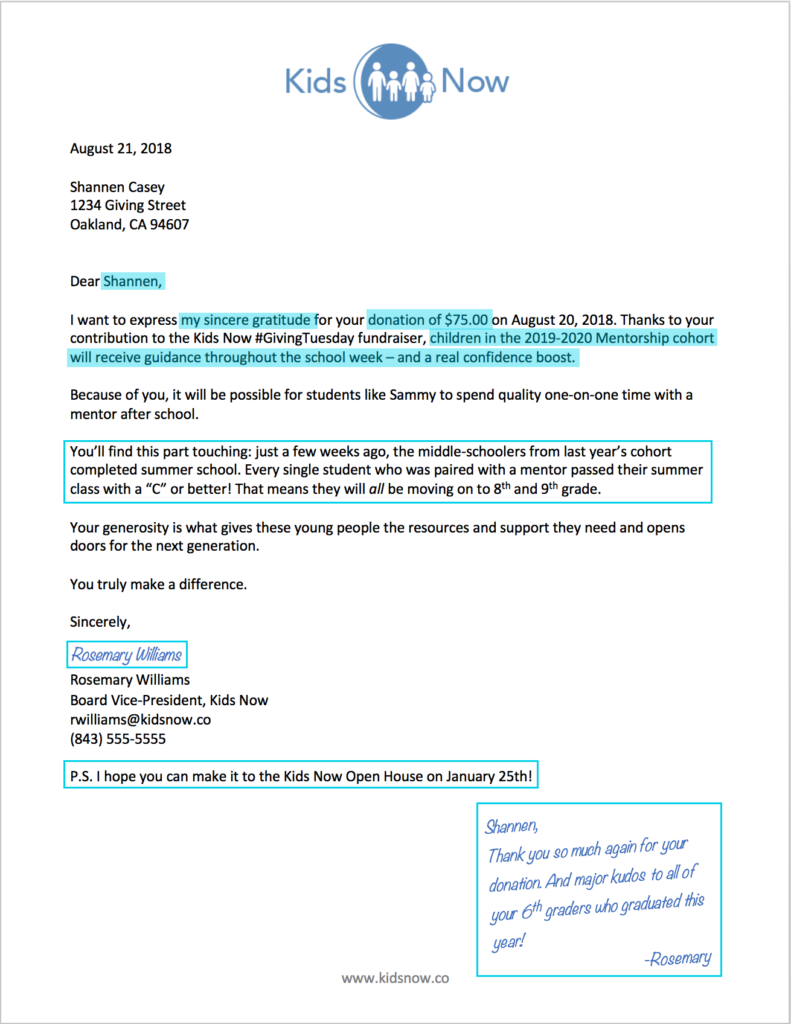 Here's another great example of using your thank-you email to show the impact of the donation: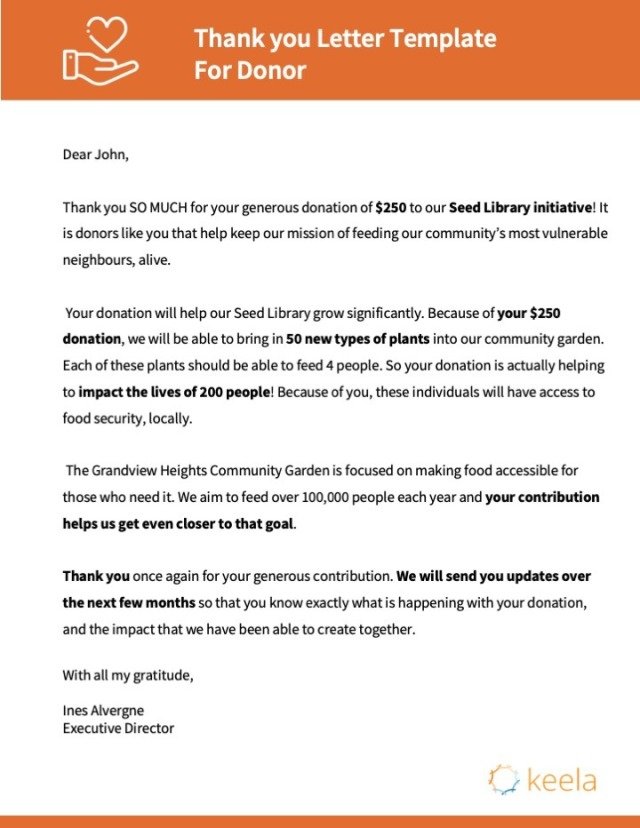 If you're still wondering how you can link donations directly to your accomplishments, here are some examples of wording you might use:
Your contribution has helped us plant 20 trees in the Amazon.
Your donation went towards retiling the roof of our Oxford children's center so they can do their homework and hang out in a safe and insulated environment.
With your support, Luciano was able to attend an after-school woodworking program.
3. Include a Call to Action
Once you've thanked donors personally and showed them the impact of their donation, you can also invite them to get even more involved by visiting, calling, or follow your progress on social media.
Here's a great example from Penelope Burk, who's known for advocating for the importance of thank-you's in Donor Centered Fundraising: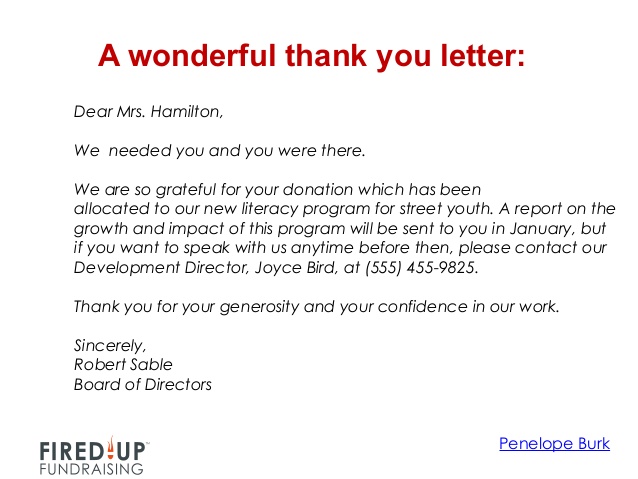 Bonus Tip: Keep Thanking
Sending a thank-you email right after a donor makes a gift is crucial, but you shouldn't stop there. Take every opportunity to remind donors that you appreciate their support and that you couldn't achieve what you do without them!
You can thank them again in update emails, in holiday emails, and in other communications you send out. The more you show your appreciation and remind donors that they are part of your success, the more they will feel connected to your organization and they'll want to keep supporting you!
Here are some examples (you can find more in 6 Ways to Thank your Donors):
Thank When Updating Donors
Thank When Sending Holiday Greetings
Find more great tips in How to Write the Perfect Thank You Letter.
About the Author: Sumac is part of the Silent Partner Software family, a company dedicated to providing exceptional software and services to nonprofits. With over 25 years of service, Silent Partner has helped organizations manage over 3 million donors and contacts across the US, Canada, UK, and Europe. Learn more.