Written by: Gail Perry, non-profit consultant, best-selling author, and speaker. 
We all know how hard it is to get our donors' attention – and their money – these days. Recently, Tom Ahern, a nonprofit communication expert whom I respect, said that Agents of Good are "absolutely on the cutting edge of fundraising today." So I nabbed the Agents for a webinar this week to share their secrets. Here are some of their provocative, out-of-the-box tips:
1. Stand out by surprising and delighting your donor.
We looked at an incredible campaign for Second Harvest in Toronto: "Holy Beep!"

The Agents created a food bank appeal that actually came from the food truck itself. The truck was an iconic theme that showed up everywhere: on the appeals, the thank yous, the website.
Jen says, "We decided the donors were already plugged into the cause. But we just needed to change the voice:"
So in the appeal, the truck said:
"Please help Second Harvest buy me so I can deliver food.
I have a dream that one day I will rev up my engine with joy knowing that I am delivering food to hungry men, women and children in our city."
If you surprise and delight your donors, then your campaign is bound to be successful!
Question: do you have the guts to take this kind of risk? To break your regular tone and revolutionize your approach?
2. Make it so appealing that donors fall in love with you.
Now this is a tall order. No doubt. But it can be done. Jen said, "People fall in love with this truck." The message picks you up and throws you on the floor and makes you laugh.
Question: Do you have the confidence show a different side of your organization and make your donors laugh?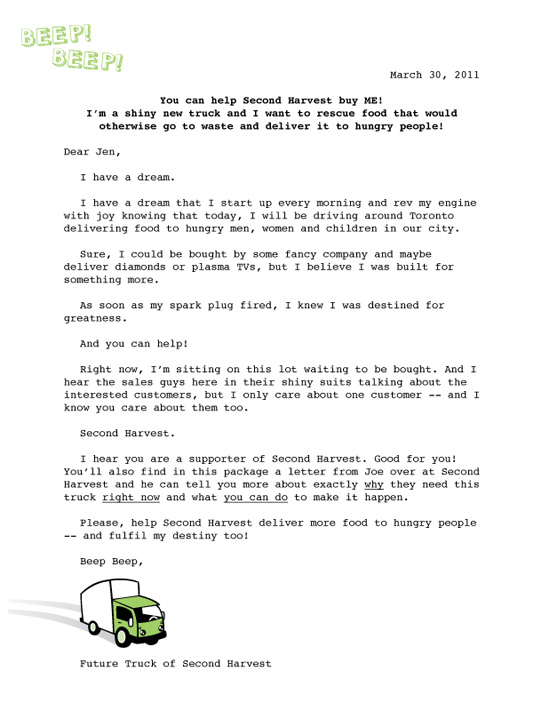 3. Have a very clear purpose for the money.
I've talked about this already here and here.
You raise TONS more money if you can tell donors exactly how much you need (a dollar figure) and what it's going for.
Question: do you have the discipline to be this specific?
4. Use an involvement device.
The pledge card asked the donor to take a sticker from the letter and move it to the pledge card. This little tiny action pulls the donor closer to you. And it involves the donor in your cause in a small way.
Their client worried about this: "This is gonna confuse our donors."
But John said: "We bet a case of beer that the sticker will work."
And it did!
Question: do you have the guts to try something new?
5. Ask for the full amount you need right on the pledge card.
What?
Yes, they offered four check boxes: One for $100, one for $500, one for "other" and one for $65,000.
Jen said, "It's happened before in the history of fundraising. Once a person wrote a $100,000 check and actually sent it back in the reply envelope."

John said that it helps raise people's sights if they see a large specific amount that's needed. Donors end up saying to themselves, "Can I give a little more? Can I help them get a little closer to $65k?"
It gets your donors to stop and look and think and take your ask seriously. And that's what you want!
6. Be willing to invest in order to gain a big return.
This campaign cost about $2.00 per piece if you include all costs. And it went to around 10,000 people.
That's a significant investment. And it's an investment that many boards and CEO's are afraid of making.
"We just don't have it in the budget!" they say.
But how much did this appeal raise? About $80,000!
So they spent $20k to raise $80k.
That gets my attention!
But here's the incredible thing: the appeal had a long term impact.
The appeal reverberated in the community.
BECAUSE:
Their NEXT appeal 6 months later raised even more money than the beep-beep campaign!
Here's my question to you: do your decision makers really, really understand that fundraising returns back much more money than it costs?
7. Use an unusual envelope.
What?
Think about your own mail. You often sort your mail over the trash can.
You separate anything that looks like a personal note or an invitation out of the regular stack. You look at the personal stuff first.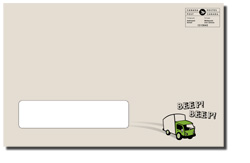 Why not use an out-of-the-box envelope with your out-of-the-box appeal?
It definitely costs more money to use an extra large envelope. Second Harvest could have cut the costs of the appeal significantly by using a "regular" envelope.
But they wouldn't have raised as much money!
Download Your Free Guide on Choosing CRM Software for Your Nonprofit!