If you are hosting an event – whether it's a black-tie gala or a blue-jeans volunteer day – guests need to be able to register online. There are many third-party services and websites that offer event registration; however, using your own database streamlines the registration process for guests and helps you more effectively manage your event. In fact, every aspect of event management—from sending out invitations to printing nametags—can be handled through your database, making nonprofit event management a breeze.
Using your database to manage your event helps create a comprehensive user experience, streamline communication with registrants, and ensures that you have all the information you need, from guests names to meal preferences, in one centralized place.
Create a Comprehensive User Experience
After you've sent out invitations, your registration page is one of the first things your event guests will see. Create a branded registration page that is integrated with your database, secure, and attractive. This is important to streamline the registrant experience; guests do not have to navigate away from your website to a third-party site to sign up and pay, and you don't have to pay additional credit card processing fees!
An integrated registration page also allows you to customize what information you collect. Registrants need to do more than simply sign up and purchase tickets online. With a customized registration page they can indicate the names of their guests, share meal preferences, purchase a table, auction items, or raffle tickets, and share any other notes they may have such as mobility concerns or questions about attire.
Seamlessly Manage Communication
From sending out initial invites to final thank-you letters, your communication strategy is a key part of a successful event. Segment your database to create custom lists and tailor your invitations based on invitee's history with your organization, and if you are sending email invitations even consider using conditional fields to add customized notes such as "Thank you for attending last year" or "I hope you and [spouse name] can join us this year!"
Tracking registrant information via your database allows you to efficiently run RSVP reports and segment registrants so you can send personalized communications. Once guests begin to register, you can keep them up-to-date by sending reminder emails and updates about the event. Post-event don't forget to send thank you emails! Segment your RSVP list to send emails to attendees and donors – and even email those guests who registered but did not attend, letting them know they were missed.
Track & Report on Registration Information
Capturing registration information doesn't just streamline the registration experience of guests, it helps you effectively manage your event and report and analyze key information. You can easily run reports on how many guests have RSVP'd, view meal preferences, generate lists of guests who have not yet RSVP'd (and who may need a phone call), and prepare nametags and seating charts.
What about after the event? Once you've communicated with all your guests to say thank you, you can run reports on attendance and donations to assess the success of your event, compare it to previous events, and compare how many donors were new to your organization, renewed their gift, or gave more money as a result of attending.
A Unified Event Experience
Event management is incredibly complex. From sending out invitations to ensuring each guest receives a customized thank you letter, an event of any size requires significant attention to detail. If you are expecting dozens – or even hundreds! – of guests, managing registration effectively is critical. Using your database to manage event registration doesn't just mean guests can easily sign up and pay, it provides a powerful and accessible way for fundraisers to manage significant amounts of data while still focusing on hosting a successful event.
Download Your Free Guide on Choosing CRM Software for Your Nonprofit!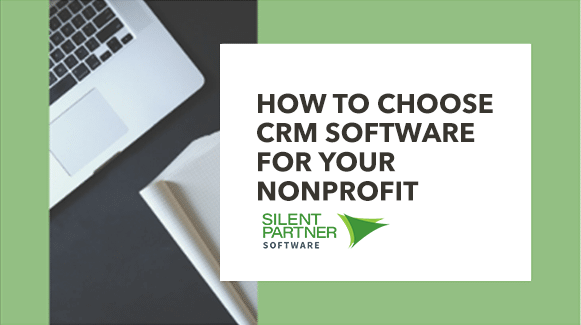 1