Have you heard of Crowdrise? It's the website started by actor Edward Norton that empowers everyday people to raise money for the charity of their choice. Websites like this are popping up everywhere, marking a new trend in do-it-yourself crowdsourcing that can be hugely beneficial to non-profits. In this article you'll find out more about crowdsourced fundraising, the benefits, and how your organization can take advantage.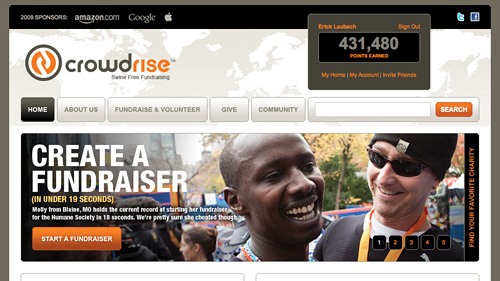 What's Crowdsourcing?
The term "crowdsourcing" was first coined by Jeff Howe in a June 2006 Wired magazine article. It means "the act of outsourcing tasks, traditionally performed by an employee or contractor, to an undefined, large group of people or community (a crowd), through an open call." [From Wikipedia. Available here]
Crowdsourced Fundraising: How it Works
When you apply crowdsourcing to fundraising, you get websites like Crowdrise , FirstGiving, JustGiving, and Givezooks. These websites outsource fundraising to individuals who have a little bit of time on their hands and a passion for a particular cause.
How does it work? On the Firstgiving website, for example, individuals set up a fundraising page to raise funds for a certified charitable organization. They personalize this page with messages, photos and videos and send the link to their family, friends and personal connections around the globe to ask for support.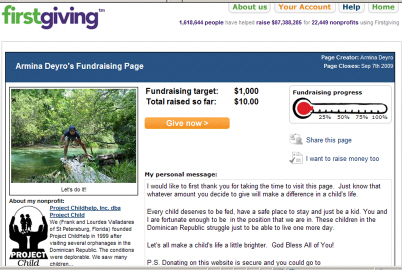 How You Can Benefit
Websites like these get supporters working for you and can multiply your fundraising efforts hugely. Consider this: You have a database of 5000 donors or people interested in your cause. Crowdsourcing helps you turn those 5000 contacts into fundraisers. Maybe you have two two full-time staff who fundraise for the organization by making phone calls and sending personal emails. Even one hour from those 5000 people is more than two staff can work in a year. And because your 5000 contacts know hundreds of thousands of others to solicit, the expansion of your supporter base would be dramatic.
Here's just one example of crowdsouced fundraising at work: 30,000 runners in the Flora London Marathon set up fundraising pages on the JustGiving website and raised $7.3 million.
So, what do you need to do to take advantage? Simple! Let you supporters know about how they can help. For Crowdrise and FirstGiving, you don't even need to sign up. As long as you are a registered charity listed on Guidestar, individuals can use the site to raise funds for you.
Use your newsletter, website and social media to get the word out. To get the ball rolling, encourage your staff and board to set up pages, then ask your current supporters to do the same. In most cases, people are more than happy to do it. In a few clicks, your supporters can have their own fundraising page up and running and can be collecting funds and raising awareness on your behalf. To make it fun, encourage individual and team competitions and offer rewards for top fundraisers.
Download Your Free Guide on Choosing CRM Software for Your Nonprofit!