Membership is easy when you only have a handful of donors on a one-page spreadsheet, but what happens when you hit double digits? Furthermore, what happens when you hit triple or quadruple digits and need to balance donors on multiple levels along with several corporate sponsorships?
This is where nonprofit membership management tools come in. While there are many options to segment, analyze, and communicate with your audience, quality membership management requires a human touch. Whether you're evaluating how your membership is organized, or starting a new position as a non-profit's membership coordinator, follow these steps for a simpler, cleaner, membership program.
1. Communicate On Your Member's Channels
There is a lot of pressure for established non-profits to communicate with their members in modern ways with text message updates and social media messaging. On the other hand, start ups sometimes opt more traditional methods of communication.
There's no perfect formula for communicating with your members. As you add new members and renew existing ones, poll your audience to learn which methods of communication they prefer. If 80% of your audience prefers to hear from you via email, then you're better off investing in a quality email software provider than other channels of communication.
2. Consider Building a Unique Membership Portal
Smart nonprofits let new donors complete the checkout process on their main site, but also grant access to the membership portal for those who are qualified to join.
Membership portals allow donors to learn about, and redeem their member benefits, and learn about upcoming events. If you're hosting a party or show where members have first access, you can open up the tickets for sale in the membership portal before they hit the main site.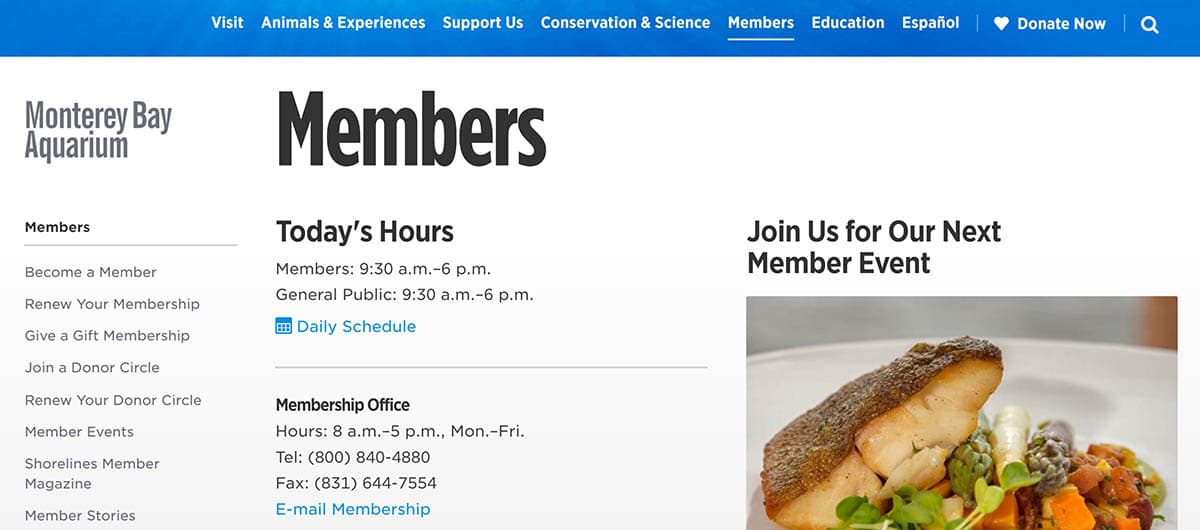 Image via Monterey Bay Aquarium
3. Make Renewals Easy for Both Parties
In today's digital world, membership coordinators also need to be eCommerce specialists, especially if they sell apparel, tickets, and memberships through their websites.
If you're asking your donors to renew their membership via email or even text message, make sure to include a link to the checkout page or the member portal for them to log in. If your security system can handle it and the donor has given you permission, save their personal and credit card information so it autofills within the fields. It should take no more than five minutes for your donors to land on your website and renew their membership. If the process becomes long and convoluted, your donors might procrastinate until their membership lapses or forget to renew altogether.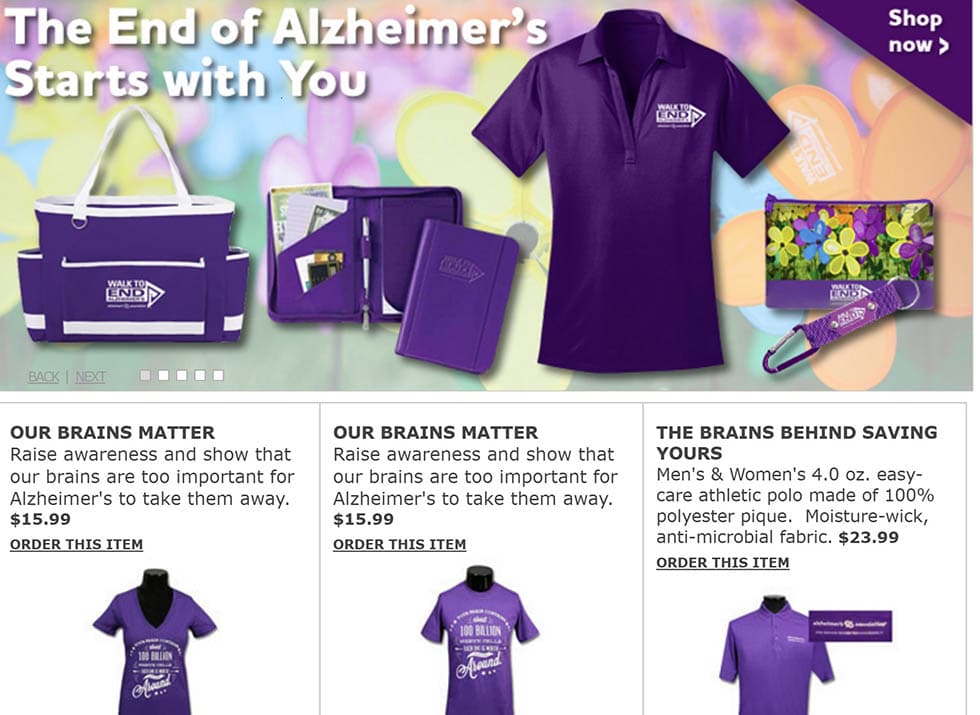 Image via Alzheimer's Association
4. Segment Your Audience for Better Marketing
Instead of sending out one marketing message to all potential donors, some nonprofits have multiple marketing channels for donors, guests, members, and volunteers. Each of these audiences have their own calendars and marketing messages. Certain nonprofit membership management softwares come with the ability to segment members by their involvement, and it's possible to create it as an additional field for others.
For example, one-time donors will receive emails about starting a monthly contribution, while the monthly members will receive communication about upcoming galas and early access to events. This allows organizations to create better messages for their audiences — instead of asking a $10 donor for a $10,000 sponsorship — while the reducing the actual number of messages they need to send.
5. Prioritize Your Vendor Wants and Vendor Needs
When it comes to choosing the right software tools for your organization, find what works for you and then compare it to your budget. There's a saying in the marketing world that software isn't like wine: expensive doesn't always mean it's better, but you could be missing out if you only buy the $5 stuff. This means you don't necessarily need the priciest tool with all the gadgets if you're only going to use a few of them.
When you're searching for the right tools for your organization, create a list of "must-haves" that your team needs in a management software platform. As you beta test various options, fill out your list of "would-likes" that might make your job easier for the right price. For example, the team at Canadian Blood Services needs a portal that can store patient donor history, health information, and upcoming appointments. None of those items are optional.
As long as you prioritize your needs, you shouldn't get swept up in the glamour of an expensive tool or settle for a sub-par vendor.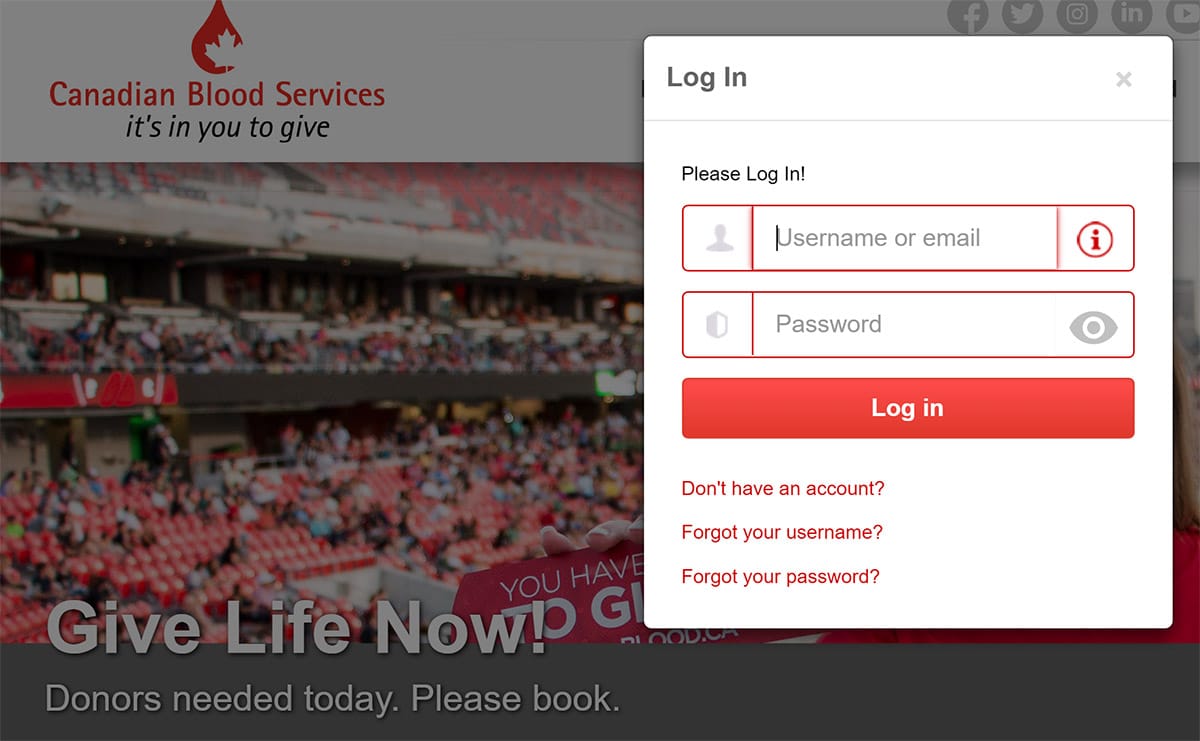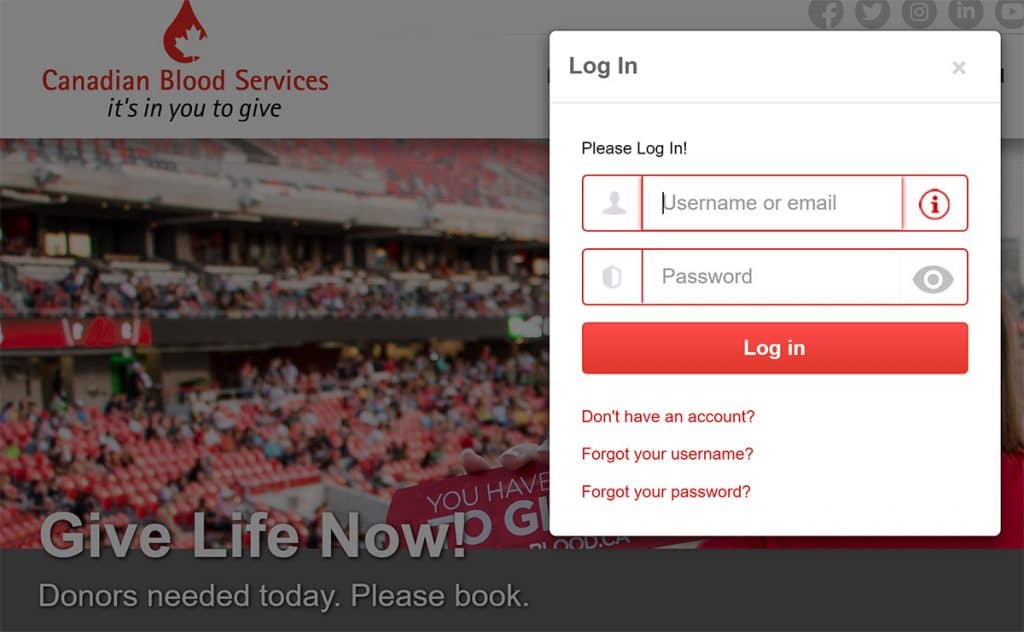 Image via Canadian Blood Services
The less time you spend organizing your donors, the more time you can allocate toward growing your list of members and helping the nonprofit you work for. When it comes to member management, work smarter not harder, so everyone can benefit.
Download Your Free Guide on Choosing CRM Software for Your Nonprofit!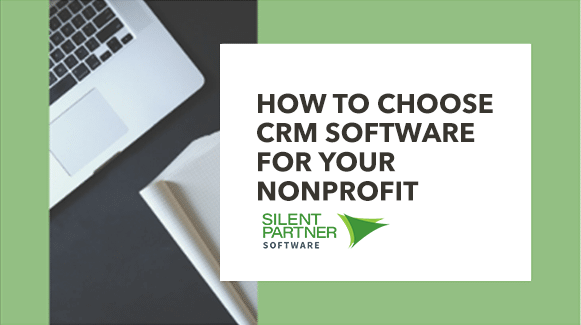 1,3,5,1,4