If you are using Moves Management you have no doubt seen just how effective it is to move donors through the process, from being identified as a prospect to ultimately being thanked (or stewarded). However, if you are new to moves management, you may wonder how to put in place this type of fundraising system, one that ensures each donor has an engaging and meaningful donor-centric experience with your organization.
Implementing a moves management system may seem daunting at first, particularly when you are dealing with dozens of major donor prospects and a database of hundreds or thousands of constituents. The key to success is getting organized, including segmenting your database to allow for a data-driven process, and strategically planned outreach.
Step 1: Segment Your Donor Database
Who are your top donors – those 20% who routinely make gifts that account for 80% of your fundraising revenue? Who are the top prospects whom you want to meet with during the next twelve months? Who in your database could significantly upgrade their gift but hasn't been directly solicited? These are the types of questions a moves management process allows you to answer, and the first step in being able to answer them is segmenting your database.
If you don't know who your top prospects are, start simple. To understand the financial capacity and interest of individuals in your database, break your database into lists based on giving history, interests, and demographics as well as coding constituents as "current", "lapsed", or "prospective" donors. It's likely that some donors who have made $100 gifts annually have the capacity to make a $10,000 gift instead! You can use a wealth screening tool to research donors to obtain insight into who might be the most ready for further cultivation.
Step 2: Put Together a Moves Management Portfolio
Track your progress with each donor to keep the momentum of a moves management process going. Creating a portfolio of your donors and prospects is an easy but important step in implementing a sustainable moves management system.
If you have a database like Sumac, all of your history with a donor is captured in your database, so a portfolio can be pulled as a report and can include:
The history of each donor including the first time they engaged with your organization.
The amount and date of their first gift and last gift.
Their last interaction "or move" with you.
Any relevant notes about them.
Your targeted ask amount and plan for soliciting them.
Portfolios should be given an in-depth review on a weekly or monthly basis and used for donor cultivation. This can be a collaborative process, as well. Ask staff and board members for insight into donors, and solicit advice on who should be added to your portfolio and further cultivated.
Step 3: Create Customized Fundraising Plans
Once you know who your donors are, and which ones you want to focus on, make sure you know where they are in the moves management process. With Sumac, action plans help you track the steps to successfully identify, qualify, cultivate, and solicit or steward donors based on their involvement with your organization.
Every donor in your portfolio should have a cultivation plan. What's the goal, both in terms of the size of the gift and their engagement with your organization? When will you ask them for money, and how will you get them interested enough to say "yes"?
The key to creating this fundraising plan is to create a calendar of donor touchpoints throughout the year. Some are recurring annual outreach that all donors receive, such as:
Newsletters and email blasts
Annual appeal letters
Annual report mailings
Invitations to events
Engagement in volunteer activities
Major donor prospects need more. Perhaps they receive your annual appeal letter each year, but you would like them to make a first-time gift, or substantially increase their current giving. Maybe they're tangentially involved, but you are hoping for a deeper level of engagement. More personal touchpoints might include:
Handwritten thank you notes or personal phone calls
In-person lunches, dinners, or meetings with staff and board members
VIP invitations to major events
Opportunities for behind-the-scenes looks at your organization's work
Significant volunteer opportunities such as serving on event committees
Moves management is all about your donors. Their experience as a donor should make them feel valued and appreciated. While it takes time to set up your database and create your portfolio, moves management allows data to drive your fundraising efforts, leaving you more time to focus on those important donor relationships!
Download Your Free Guide on Choosing CRM Software for Your Nonprofit!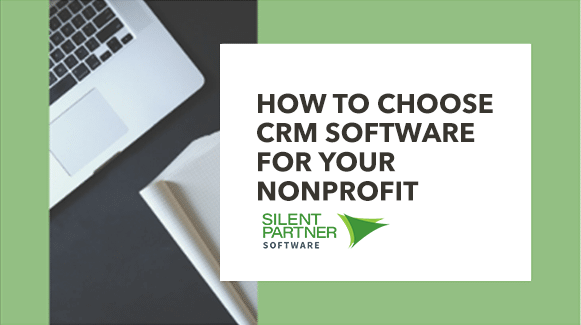 1,2